Fasteners
Polar Lites uses state of the art clips and fasteners to secure your décor to your home. No drilling nails or staples!  Our fasteners are designed to slip under your roof shingles or clip to your gutter, ensuring a damage free installation and take-down!
Commercial Quality Products  
Commercial quality lights mean heavier gauge wire, industrial standard sockets and longer lasting bulbs up to 50,000 hours! This combination insures you of a more beautiful, trouble free display for years to come. Our products are also energy efficient and will normally save you money over the typical store bought materials. We also install special, high quality, low- voltage commercial lighting for larger buildings, shopping centers, etc. These industrial light systems are used on projects like the London Bridge, Euro Disney, Paris, and Eastbourne Pier, Sussex!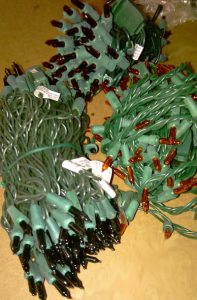 A significant benefit to using Polar Lites is the fact we carry liability and workers compensation insurance. Most companies do not carry liability insurance, let alone worker compensation!
Polar Lites is fully insured through Cummins Insurance for our liability, fire insurance, etc.  (916)-961-6000. Contact: Debbie Cummins
Our Workers Compensation is covered by InterWest Insurance Services, INC.  (916)-609-8306 Contact: Emily Clark
All insurance policies are covered under our Polar Bear, Inc. name.