Sacramento Holiday lighting Installation
Welcome to Polar Lites! Our firm in Sacramento California, specializes in the installation, maintenance, removal, and storage of holiday lighting and decorations.
We use commercial grade supplies and materials to insure dependability, and superior appearance.
Christmas Lights Installed in Sacramento With Care
Taking care of your residence is our first priority. If our staff cannot propose a non-destructive method to adhere the lights or décor to your home, we will not recommend the product. Whether it is installing fresh towels on the ladder ends, or sweeping up broken bulbs, our staff is all about the details! When the holidays are a thought of the past, you will have peace of mind that your home has not been defaced with permanent damage for a temporary display!
Sacramento Area Christmas Light Installation Cost
Our minimum charge for local customers is $ 1095.00, and outlying areas are a bit more. See details under "OUR PROGRAM – "HOW IT WORKS".  Polar Lites carries Workmen's Compensation and Liability insurance. The company operates in an 11,000 square foot facility, with a staff of 9 experienced employees. Most of our staff have been with our firm for 5-12 years!
By providing our staff with continual training, excellent wages, and superior equipment and products, Polar Lites is able to provide you with exceptional service, at a reasonable price!
Sacramento's Christmas Light Installation Professionals
We have been doing Christmas Lighting Installation and Removal in the Sacramento and Surrounding Areas for over 2 decades now. We know what we're doing!
Christmas Lighting and Displays Installed
Sacramento Christmas Lighting Installation
Folsom Christmas Lighting Installation
El Dorado Hills Christmas Lighting Installation
Roseville, CA Christmas Lighting Installation
Rocklin, CAChristmas Lighting Installation
Call For Holiday Display Quote (916) 923-9627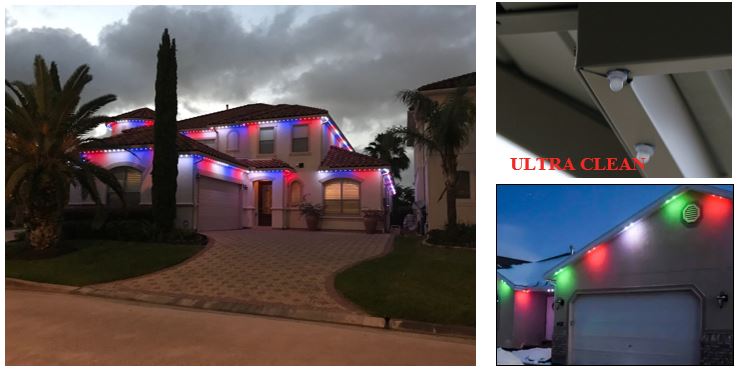 Why Choose Professional Christmas Light Installers?
Just wanted to thank  Paul and his crew for doing another excellent job this Christmas decorating our home. As always, it was beautiful, and everyone of our neighbors said how pretty our house looked for Christmas. Paul and company promptly installed our decorations as I requested, and were just as prompt in taking the lights down when I asked. Service and installation are excellent. Happy New Year!
These guys are good, really good. My house is difficult and complicated and they knocked it out. Great teamwork,  in and out – fast, easy, and painless. My house looks beautiful and I'm ready for the holidays. Highly recommend!
Have used Polar Lites for the past 4 years and am always impressed with their workmanship, punctuality and customer service. You're house will be the talk of the neighborhood!
Having my Christmas lighting installed by this company is a decision I'll never forget.
I have two very high peaks on my home and I used to climb on to my roof and hang over the edge and try to install them. In 2014 I almost fell off my roof which likely would not have been survivable.
Polar Lites arrives with large lift trucks and highly trained installers with all the proper climbing and safety gear. It's amazing to watch.
The lights and electrical cords they use are far supperior to what I had been buying at local retail stores EVERY year.
Not only do they do a beautiful job, I feel safer with their care and attention to all the electrical safety. And best of all is that they remove everything and store it until the next season. I usually had to pretty much buy new lights every year because half of them no longer worked.
I strongly recommend these Christmas lighting professionals to every one I know.
Polar Lites did amazing work and were easy to work with! Gene walked me through the entire process and took great care of my home. I recommend their service to all of my friends and family and just love how they made my house really light up!